Beast Mode: Taking on Juvenile Idiopathic Arthritis — Jaxton's Story
---
When Jamie Briceno arrived home from work one afternoon in August 2020, she wasn't greeted with her son Jaxton's usual energetic self. Instead, she found the 9-year-old panicked and unable to walk on a very swollen ankle.
"Boys will be boys," said Jamie. "So you instantly think maybe he was goofing off outside and hurt it, but he couldn't think of anything he did, so I took him straight to doctor."
The Briceno's, who resided in Colorado Springs, Colorado at the time, went to the nearest emergency room. The doctor ordered X-rays, and much to Jamie and Jaxton's surprise, nothing was broken. Even more surprising, they were told to go home and pack their bags in preparation for exploratory surgery. The doctors wanted to make sure Jaxton didn't have an infection in his joint.
"The worst starts going through everyone's mind of how could his foot look like this? What did we miss? Is there something we could have done to prevent it?" explained Jamie.
The family did as they were told and were sent to Children's Hospital Colorado.
Pump the Brakes
When Jamie and Jaxton arrived, doctors ordered another X-ray and plans changed immediately.
"They said, 'pump the brakes. There's no need for surgery,'" said Jaxton.
Clues from the X-ray and Jaxton's symptoms revealed Jaxton was dealing with juvenile idiopathic arthritis (JIA), an autoimmune disease that causes the body to attack its own joints. The family's relief from avoiding surgery was quickly replaced with confusion.
"They said he had arthritis, and I was like wait, this is an adult thing," said Jamie. "But you learn really quick that kids get arthritis too."
As an avid soccer and baseball player, the news hit Jaxton hard.
"I was just scared," explained Jaxton. "I was like, 'I'm going to be paralyzed almost. I'm never going to be able to do anything I love again.'"
Doctors prescribed Jaxton an anti-inflammatory to reduce some of the swelling and told the Briceno's they needed to find a pediatric rheumatologist. Unfortunately, Jaxton's dad Adam, an active drill sergeant in the Army, had just come down on orders to move to Missouri in two months. The family would have to wait.
"We just tried to make it as easy as possible on him with anti-inflammatories and heat compresses," said Jamie. "He has a little arthritis bear and we'd put it on his foot to try to take some of the swelling down and get him to walk on it because he couldn't put any pressure on his foot."
The two months passed slowly, and Jaxton's condition worsened.
"It was hard," explained Jamie. "I had a few days where I just went into my room, shut the door and just…struggled with the what ifs, like 'have I been missing something this whole time?' At one point, he was almost in a wheelchair, and I said, 'well, this is our life, and we're going to tackle it.'"
Making the Move to Missouri
In October of 2020, the Bricenos made the move to St. Robert, Missouri and met with the pediatric team at Fort Leonard Wood.
"They said 'We've got to get you to rheumatology right away — we're sending you to the specialists at MU Health Care and you're going to see Dr. Patwardhan, and she's going to get you taken care of,'" said Jamie. "And we were like OK, we're going to have to start traveling for this. And it ended up being one of the best decisions we made."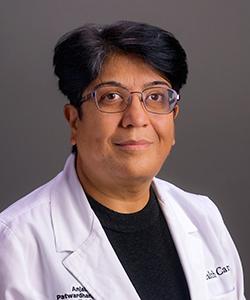 The family made the two-hour drive and met with Anjali Patwardhan, MD, MU Health Care's pediatric rheumatologist, who brough them up to speed on Jaxton's condition.
"Jaxton had significant disease, with multiple joints affected. The swelling he was experiencing, even when he first went to the doctor in Colorado, meant the arthritis had been there for months," Dr. Patwardhan explained.
But before Jamie's fears of missing something could reignite, Dr. Patwardhan explained further:
"It can be a hard disease to recognize. Unlike adults, pain is not the main symptom. Morning stiffness is the most telling sign, and sometimes kids will limp from the discomfort, but they rarely shout 'pain' to help clue parents in. And if they do, it can be easy for parents to dismiss them as growing pains, but growth does not cause pain."
Another barrier to a quick diagnosis is a lack of doctors specializing in the disease, which the Bricenos had already witnessed in Colorado.
"Pediatric rheumatology wasn't a specialty before the 1990s, so most people aren't trained in it," said Dr. Patwardhan. "There are at least nine states who don't have a pediatric rheumatologist, and another six who only have one."
Jamie and Jaxton were grateful to have her on their side.   
"She was amazing. In the beginning, we were so lost, and she kept telling Jaxton, 'There's hope out there. You're going to be running again. You may have a few days that you're going to be down, but we're going to get you back to where you need to be,'" Jamie said. "And she wasn't lying."
Bringing Back the Beast
Often with JIA treatments, doctors use steroidal joint injections as a first line of defense. For 80% of kids, the localized treatment is enough to reduce inflammation and lead to remission. But for kids like Jaxton who have multiple joints affected, doctors take a more systemic approach to treat the whole body.
Dr. Patwardhan started Jaxton on methotrexate, an immunosuppressant drug used to help ease the symptoms of JIA and prevent joint damage. She also added bi-weekly biologic injections to target specific parts of the immune system that fuel inflammation, as well as daily physical and occupational therapy.
The combination of care was just what Jaxton needed.

"Once he started the injections, he turned completely around. He started to gain weight. He started to feel good. And you could see he kind of got his smile back. He was just so happy again," said Jamie.
For two years, Dr. Patwardhan worked closely with the pediatric team at Fort Leonard Wood to monitor Jaxton's care and progress while sparing the family from constant two-hour drives.
"The collaboration has been amazing," said Jamie. "There are time when MU Health Care orders a lab or something and we can't just jump in the car, so the Fort Leonard Wood team does it. And there are times when we need a referral here and MU Health Care makes it happen. It's really nice to have two hospitals working together to provide the best care for Jaxton."
Everyone's hard work was paying off and leading to the moment Jaxton had been waiting for since his diagnosis: being cleared for sports. In May 2022, Jaxton and Jamie went for the official verdict. 
"I just remember sitting there when we went to get his physical and asked, 'All right buddy, are you ready for this?' and he said, 'No, I'm scared they're going to tell me I can't,' and I just said, 'No, look how strong you are," said Jamie.
The doctor delivered the news: Jaxton was ready to go. He could play sports again.
"I was just so excited and happy because I've always wanted to play sports and I couldn't 'cause I was on hold," said Jaxton. "My body wasn't all right. But now I can move around freely and be a normal kid again."
Seeing her son light up made everything worth it.
"It was the best feeling," said Jamie. "For two years, he was ready to take it on. He just wanted to feel better. He learned to do his own injections at home, he did so many days of therapy and he was so strong throughout it all. That's why we call him the beast, because he's so strong."
A beast who revving up to hit homeruns, score goals and use his dedicated TikTok page to help other kids dealing with JIA.
"I hope other kids see that they're not the only ones who have it, and just want them to feel like it's okay to have it," said Jaxton. "I want them to know it gets better."
---