Karen Wingert always scheduled her annual mammogram as soon as she received the reminder card from MU Health Care's Ellis Fischel Cancer Center. The Columbia resident was admittedly less vigilant about other cancer screenings.
In December 2018, Wingert scheduled both her annual mammogram and a skin check with a nurse at Ellis Fischel's Cancer Screening Services clinic. Although Wingert's mammogram came back normal, Guthrie was concerned about a few spots on Wingert's legs.
"The nurse saw three areas she was a little bit worried about — one on my left leg and two on my right thigh," Wingert said. "I looked at them and didn't see anything, but she said, 'You know, I just want a dermatologist to look at this. I'm a little bit concerned.' "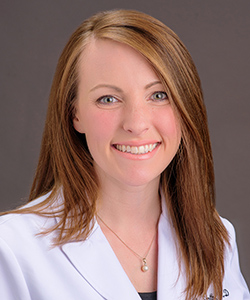 Within a few minutes, Wingert had an appointment with MU Health Care dermatologist Emily Smith, MD, for the next week. On that visit, Smith confirmed Guthrie's suspicion: basal cell carcinoma, a type of skin cancer that grows in new skin cells. Dr. Smith removed the cancer the same day.
"The one on my left leg was on the back of my knee, so I had never seen it," Wingert said. "The one on my right thigh, I had seen it and never thought anything about it. That's how skilled the nurses are at Ellis Fischel. They saw it and said, 'I'm concerned,' and took care of it in one fell swoop."
Wingert's experience highlights the importance of the comprehensive and collaborative Cancer Screening Services clinic. The clinic offers cancer screenings for men and women and is staffed by registered nurses. Women's health screenings include checks for all skin cancers, clinical breast exams, and pap and pelvic exams. Men's health screenings include checks for all skin cancers and men's wellness exams that include prostate cancer screenings. The mobile mammography van is also scheduled through the clinic to bring mammograms to Missouri residents.
The clinic refers patients to cancer doctors in the case of abnormal results.
The clinic is open 8 a.m. to 4:30 p.m. Monday through Friday at Ellis Fischel. For appointments, please call 573-882-8511.