In the spring of 2012, Lindsey Schaefer was 30 years old and entering her prime. The Columbia resident had a fulfilling career as a project engineer for the City of Columbia and enjoyed a healthy lifestyle that included regular fitness classes and running on the MKT Trail.
Then she received life-changing news.
After suffering leg pain caused by blood clots, Schaefer went to University of Missouri Health Care's Ellis Fischel Cancer Center for a blood test. The results came back abnormal so she underwent additional testing.
"I went home to grab a sandwich for lunch, and that's when Ellis Fischel called and told me, 'You have leukemia,' " Schaefer said. "At 5 that evening, I got another call that I needed to be admitted first thing the next morning for four to six weeks. The doctor explained they would do a bone marrow biopsy and begin treatment right away."
Schaefer was diagnosed with acute promyelocytic leukemia, a subtype of blood cancer often referred to as APL. It's characterized by too many immature blood-forming cells developing in the blood and bone marrow, leading to a shortage of white and red blood cells and platelets. That shortage can lead to severe internal bleeding and clots, which is one reason Ellis Fischel staff called Schaefer right away instead of having her come back in to learn the news.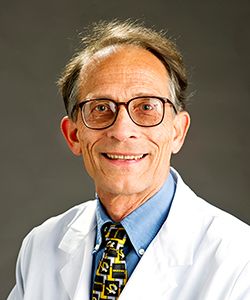 "APL is one of the medical oncologic emergencies as far as I'm concerned," said Donald Doll, MD, Schaefer's hematologist and medical oncologist at Ellis Fischel. "You don't want to miss the diagnosis because of the risk of a brain bleed, and we want to err on the side of overtreatment rather than undertreatment."
Schaefer's first stage of treatment was induction therapy. She received a unique targeted therapy – a combination of aggressive chemotherapy, arsenic and all-trans retinoic acid (ATRA), an oral medication – that work together to kill the leukemia cells with the goal of putting the disease into remission. Targeted therapy, a type of precision medicine, is given to reduce cancer cell growth and is based on a patient's individual bloodwork and tumor type. After six weeks, Schaefer began consolidation therapy, in which chemotherapy and ATRA attack any stray leukemia cells. 
Schaefer worked during the day and arrived at Ellis Fischel in the late afternoon for two-hour chemotherapy infusions.
"I was so fortunate that I had such a world-class hospital in my town where it allowed me to work, then have treatment and still sleep in my own bed," Schaefer said. "It kept things in perspective when I would see other patients being infused for six or eight hours, and they couldn't work because they had to travel so far."
After more than five months of treatment and a long battle with side effects including extreme fatigue, Schaefer finally received the news she longed for on Dec. 12, 2012: She was in remission.
"It was an incredible moment finally hearing that news," Schaefer said. "Knowing Dr. Doll and the staff at Ellis Fischel were staying positive and taking care of me kept me hopeful. I knew they had a plan, and I was going to do what they told me to do. I knew it would be rough sometimes, but I never anticipated dying."
She then started her last treatment phase: maintenance. She took chemotherapy and ATRA pills for one year to keep her in remission. 
Doll said this type of leukemia is seen more often in younger people. 
"Now, we're able to evaluate a patient's unique background – genetic makeup, environment and lifestyle – to offer a personalized approach to treatment," Doll said. "With precision medicine, we can put these patients into remission 95-99 percent of the time now." 
After being in remission for almost seven years, Schaefer, 38, is now considered cured. She's back to enjoying her lifestyle, visiting her favorite café in Rocheport and exercising on the MKT Trail in her spare time. 
Looking back, Schaefer realizes she was in denial when she was diagnosed.
"It's comical to think about my first reaction," Schaefer said. "I was thinking, 'I can't just check into the hospital for four to six weeks. I have a project under construction. I have meetings scheduled. I can't just put my life on hold for four to six weeks.' "
With a new outlook on life, Schaefer is grateful for each new day and very indebted to her care team at Ellis Fischel.
"I'm so thankful to Dr. Doll and his staff," Schaefer said. "Leukemia changed me as a person, and I'm thankful for the perspective it's given me. It's really hard to sweat the small stuff when you've had to go through the big stuff."