As David Hymers and his wife were driving home after celebrating their 14th wedding anniversary in February 2017, he began to feel chest pain. Hymers, a retired firefighter and pilot, had seen too many heart attacks and didn't want to be another victim. He took a detour to the emergency room. 
His heart was fine, but additional testing revealed he had stage 2 esophageal cancer.
"When they told me I had cancer, I was worried, but my wife, Janna, and I were in the mode of, 'It's a tumor, but what does this mean?'" David said. "I didn't know how serious things were."
Hymers, who was 68 at the time and living in Hannibal, was referred to an oncologist at Hannibal Regional Healthcare System. Because his cancer was aggressive, he needed multiple treatments, including surgery to remove his tumor and create a new esophagus. 
Hymers received chemotherapy and radiation treatments in Hannibal, and his oncologist in Hannibal referred him to University of Missouri Health Care's Ellis Fischel Cancer Center for surgery.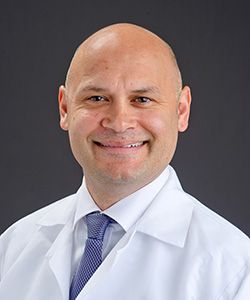 "We like to work with community hospitals to offer patients treatments close to home," said Jussuf Kaifi, MD, MU Health Care's chief of thoracic surgery. "We have a very good relationship with the medical and radiation oncologists in Hannibal and prefer patients get chemotherapy and radiation treatments there so they don't have to travel here all the time."
Hymers started five weeks of chemotherapy and radiation treatment in Hannibal before traveling to Columbia for surgery. 
"I wanted to make sure I got the best care possible, so I did my research," Hymers said. "I ended up getting a second opinion in St. Louis but liked Dr. Kaifi's bedside manner the best. He took the time to explain the surgery and recovery and was comforting and reassuring that I was in good hands."
As an academic health system with more than 80 specialties and subspecialties, MU Health Care offers patients a group of experts who can help them. 
"You need to make cancer surgery a team sport," Kaifi said. "We have many different specialties coming together, so it's not just a cancer surgeon. Not every hospital can provide that, and we have such a great team of oncologists, gastroenterologists, radiologists, dietitians and others caring for our patients."
Hymers' surgery was scheduled for July 7, 2017. Kaifi performed a procedure that removed Hymers' cancerous tumor and most of his esophagus — the tube that carries food from the mouth to the stomach. Because Hymers no longer had an esophagus, Kaifi repositioned Hymers' stomach, stretched it and connected it to his neck. 
"This was a remodeling of my insides," Hymers said. "Dr. Kaifi warned me it would take a better part of a year to get back to 100%, whatever my new 100% would be."
The biggest change for Hymers was changing his diet. For the first four weeks after surgery, he relied on a food pump to give him the nutrition he needed while his new esophagus healed. After that, he began to eat small meals — about three or four bites at a time — eight times a day as he gradually increased the amount of food. 
Today, he's eating normally. And he hopes sharing his story will bring awareness to the likely cause of his condition.
"There isn't any screening for esophageal cancer," Kaifi said. "Chronic heartburn — or acid reflux — is something we often see in our patients. Some have symptoms once you ask them, but they never really saw a doctor or complained about it."
Kaifi recommends talking with your doctor if you suffer from chronic heartburn. Smoking cigarettes, drinking alcohol, being overweight or having a condition known as Barrett's esophagus — in which the esophageal lining begins to resemble intestinal lining — are risk factors. Those factors didn't apply to Hymers, but he did suffer from chronic heartburn.
"Over time, the acid that backs up into the esophagus changes the lining, which can lead to cancer," Kaifi said. "Taking an over-the-counter medicine treats the symptoms but not the underlying cause, so it's important to see your doctor if you have heartburn."
Two years later, Hymers is thankful for his personalized treatment and the chance to spend many more anniversaries with his wife. They have a new hobby — pickleball — and they regularly play the sport together.
"My No. 1 strength is my teammate," Hymers said. "I really love being with my wife, as partners in pickleball and in life. We're together all the time now, and that's literal."