Over the past 20 years, Tom Sadowski has done some remarkable things. He's watched his three children grow up and one become a parent, made a career in accounting at the University of Missouri, and become an active volunteer for organizations dear to him.
None of that seemed possible in 1999, when the Jefferson City resident started experiencing visual impairments while on a vacation in Florida. Sadowski thought he misplaced his boarding pass before the flight. He took his daughter to the restroom at a spring training baseball game and then couldn't remember where their seats were. He couldn't understand the scoreboard when he looked at it. 
"It's funny to think about the symptoms, because they're very mundane things," Sadowski said. "They did all have one thing in common — visual things were altered."
When he returned home, Sadowski knew he needed to see his doctor. Four days later Sadowski was at University of Missouri Health Care's Ellis Fischel Cancer Center. He was diagnosed with glioblastoma, an often deadly brain cancer. His world immediately changed.
"It wasn't until my neurologist showed me the scan that I realized this might not be good," Sadowski said. "Of course, it wasn't, but they moved so quickly, and I think that was part of my initial survival."
A glioblastoma tumor typically forms in the brain or spinal cord and affects older adults. Sadowski was 47 when he was diagnosed. At that time, the average glioblastoma patient lived for only nine months after diagnosis.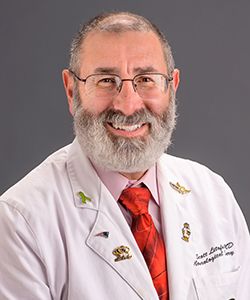 "Glioblastomas grow by infiltrating normal brain tissue and often can't be entirely removed with surgery," said N. Scott Litofsky, MD, chief of neurological surgery and director of neuro-oncology at MU Health Care. "Patients do better if their functional status is better, so if they start having symptoms, it's important to get treatment as quickly as possible."
Sadowski saw a team of physicians and caregivers at Ellis Fischel who worked with him to create a personalized treatment plan. He was scheduled for surgery the following week to remove as much as possible of the cancerous tumor, followed by radiation.
Based on the size and location of his tumor, Sadowski was a good candidate for stereotactic radiosurgery — precisely focused radiation beams — and chemotherapy. 
The survival rate was nine months at that time. He beat the odds, but when Sadowski's cancer returned in 2001, his treatment team was determined to do more. They offered Sadowski another alternative treatment known as Gliadel — a wafer infused with chemotherapy placed directly into the tumor to kill cancer cells. 
"In certain people, much like Tom, intensive alternative treatment methods are available," Litofsky said. "The treatments have been shown to be effective, but they have potential side effects. However, they're more effective than not having those treatments."
Sadowski was willing to try. 
"One more day of survival means maybe one day closer to, if not a cure, at least something else that if the cancer does reoccur, you've got an option," Sadowski said. "It's the promise of hope that something else might come that will help me or someone else survive for one more day, one more month, one more year."
Sadowski works each day to live his best life. His cancer hasn't returned since 2001 and he credits the doctors and staff at Ellis Fischel for offering him the most advanced care possible.
"Because it's an academic hospital, you have a lot of the latest research," Sadowski said. "You get that level of comfort that they really are up-to-date, that you're getting the latest information, the best care and the best treatment."
Glioblastoma treatment has improved in the past 20 years. 
"When Tom was diagnosed, only 5 percent of patients would live two years," Litofsky said. "We've made impressive strides, like identifying genetic markers we didn't know then, and now 48 percent of patients will live two years." 
Sadowski has made the most of his time. Now retired, he volunteers with Head for the Cure, a national brain cancer charity, and Boys & Girls Club of Jefferson City.
"If I've got a year to live or I've got another 20 years to live, I need to live those years and live the best life I can," "Sadowski said. "I realized that a lot of what I'm able to do now is a gift that was given to me by the people at Ellis Fischel."