Like most competitive athletes, Riley Graskewicz has experienced her fair share of aches and pains.
Riley, who is finishing her junior year at Salisbury High School, played basketball and softball nonstop as a child. She planned to play all through high school and possibly beyond. But that dream hit a roadblock one morning in fifth grade, when Riley woke up with mysterious pain and tingling in her hand. 
"I could barely open the door leading out of my bedroom," she said. "I thought I had slept on my hand wrong, so I didn't tell anyone. I assumed the pain would just go away."
Riley's pain worsened over the next several months.
"We spent the next two years visiting a variety of doctors," said Riley's mother, Wendy Graskewicz. "At first, we assumed the pain stemmed from when Riley broke her wrist several years earlier. So we visited an orthopaedist, but he concluded that Riley's pain was not associated with that injury. Then we went to a hand specialist, who ran many tests but also couldn't make a diagnosis. None of Riley's scans or blood tests showed any signs of anything."
By then, the pain had spread to Riley's knees and ankles. She continued to play sports but was clearly hampered.
"I could no longer firmly grip a softball or bat, and my ankles were on fire every time I ran down the basketball court," Riley said. "I couldn't even open my own Gatorade bottles."
Wendy grew tired of watching her daughter struggle.
"I called the hand specialist's nurse and just pleaded," she said. "My role as a parent is to advocate for my child, and fortunately, the nurse listened to me."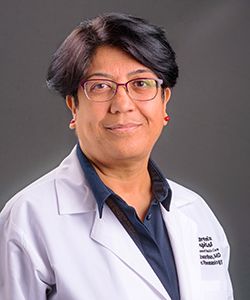 Riley was referred to MU Health Care pediatric rheumatologist Anjali Patwardhan, MD.
"The very first thing Dr. Patwardhan said was, 'I am so sorry that I didn't meet you sooner,' " Riley said. "At that moment, I felt hope. She came in with such confidence."
Patwardhan examined Riley and ordered a few tests and scans. After analyzing the results, she determined Riley suffered from juvenile rheumatoid arthritis (JRA), an autoimmune disease that causes joint inflammation.
"I was shocked," Riley said. "I thought arthritis was only for older people."
Patwardhan said JRA and adult arthritis are two completely different diseases. Because pediatric rheumatology is a relatively new medical field, most doctors do not know how to identify JRA's symptoms. In fact, some states do not have any pediatric rheumatologists.
"Unfortunately, many JRA cases are misdiagnosed as other conditions and not properly treated," Patwardhan said. "This can result in permanent physical damage or even death. Most of my patients suffer in silence for months or years before visiting our clinic."
JRA does not have any biomarkers, meaning it cannot be diagnosed through a blood test. The best diagnostic tool is a thorough physical examination conducted by a pediatric rheumatologist.
"You have to see and feel JRA to understand what it is," Patwardhan said. "If your child is limping or has unexplained joint swelling or pain for more than three weeks, take every active effort to seek a referral to our clinic." 
JRA's symptoms can originate in any joint, and treatment plans vary from person to person. Some patients will experience JRA's symptoms for their entire lives, but most will eventually overcome the disease.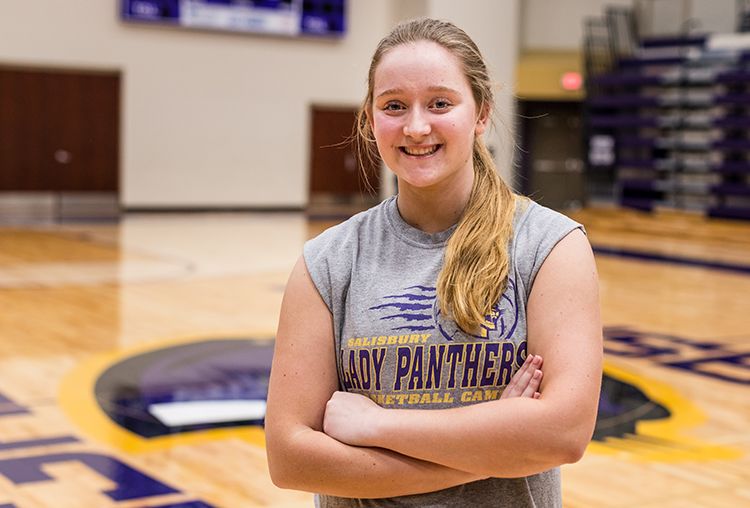 Fortunately for Riley, she had a form of JRA that could be managed with treatments. Patwardhan's plan focused on pain management while the disease ran its several-year course. She prescribed immunosuppressant and anti-inflammatory medications and gave Riley steroid shots.
Riley visited Patwardhan's clinic for regular follow-up appointments while taking the medications. She remained active in sports but gravitated toward games that were less demanding on her achy joints.
"I ended up quitting softball after my freshman year because of the arthritis," Riley said. "I joined my high school's golf team and grew to love the sport a lot. This year, I qualified for the state tournament, and I hope to keep playing golf in college."
Slowly but surely, Riley's pain faded away. In the spring of 2019, she visited Patwardhan's clinic and received good news.
"Dr. Patwardhan told me I was in remission, and she discharged me," Riley said. "We were all so excited, and I cried a lot."
"Any day where I can discharge a patient is the best day of my life," Patwardhan said.
Today, Riley is able to play any sport she pleases without limitations. She continues to play basketball while she hones her golf skills with hopes of landing a spot on a college team. And though she no longer visits Patwardhan's clinic, she plans to keep in touch with her doctor.
"Dr. Patwardhan and I are friends now," Riley said. "She is so loving, and she took such great care of me. I am very thankful to her and all the staff at Women's and Children's Hospital for all they did for me over the years."