Dr. Hoernschemeyer is experienced in treating scoliosis with fusionless spine surgery, a leading edge procedure that can help reduce curvature and help affected children and teens live a healthier life.
Vertebral body tethering 
Vertebral body tethering (VBT) is a surgery that involves the placement of titanium pedicle screws and cord to help correct the curvature of scoliosis. 
VBT is a less invasive procedure that we recommend for adolescents who are still growing and who already have a curvature of over 40 degrees. The polyethylene-terephthalate (PET) flexible cable connects and compresses the adjacent screws to help straighten the curvature, while still allowing the spine to grow and remain flexible. 
Here are some other facts to know about VBT:
The device used for VBT is not yet approved by the Food and Drug Administration (FDA) for use in scoliosis (the device is approved for lumbar fusions in adults with degenerative disorders). Therefore, the use of the device in the VBT is considered a physician-directed alternative usage of a device that has been approved for other indications. This type of use is also known as "off-label." 
Because the VBT device is an off-label use, patients should know the FDA has not approved it as a device for the type of treatment described above. This means the FDA has not concluded the device is safe and effective for treatment of scoliosis.
Your physician will explain to you how the unapproved device is used and any risks involved in "off-label usage."
(Reference: Shriners Hospitals for Children-Philadelphia. Vertebral Body Tethering (VBT): A new fusionless treatment option for scoliosis)
Dr. Hoernschemeyer uses vertebral body tethering to reduce spinal curves.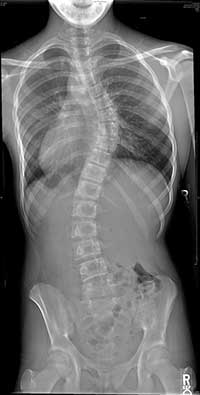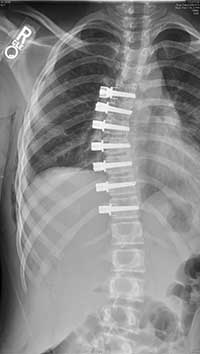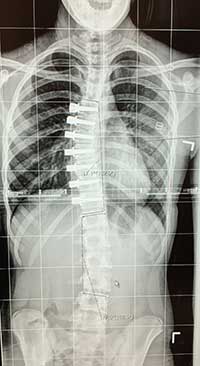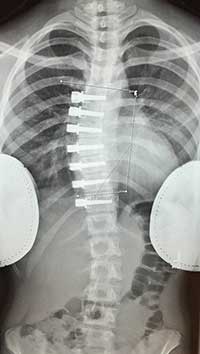 Related Conditions & Treatments