Connor Strope has been a champion for MU Children's Hospital for years. The fun-loving 11-year-old son of Paul and Stacy Strope is a regular at events. He tells his story to thousands of listeners during the annual Missouri Credit Union "Miracles for Kids" radiothon and busts out moves during the MU student-led Mizzou on dance marathon.
Born with osteogenesis imperfecta, or brittle bone disease, and diagnosed with autism, the fourth-grader at Blair Oaks Elementary in Wardsville takes pleasure in the simple things, such as movies, music and family. He is an inspiration to everyone with whom he comes in contact, and that is one of the reasons his unofficial status as a hospital champion is now official.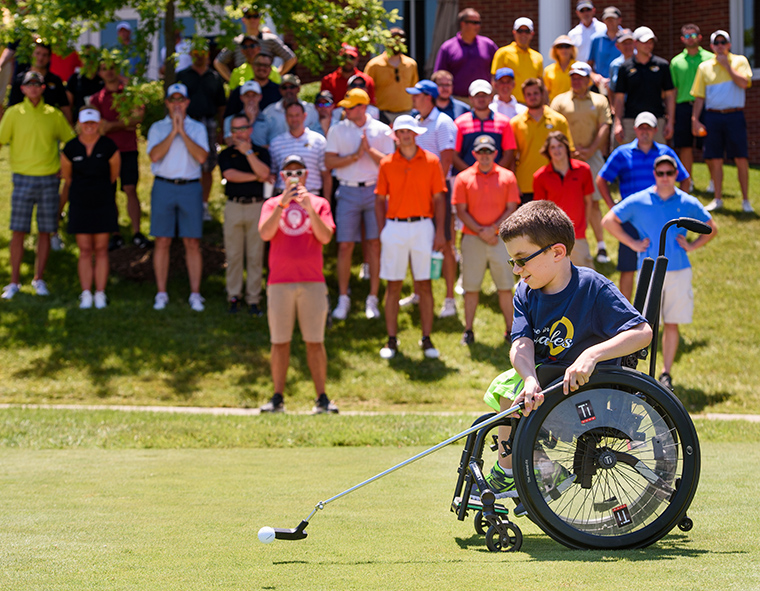 Connor was chosen to represent MU Children's Hospital and Missouri as a Children's Miracle Network Hospitals Champion child for 2016-2017.
Each year, the Champions program designates one Champion child per state, Puerto Rico and the District of Columbia to serve as ambassadors and help educate the public about Children's Miracle Network Hospitals, its hospital members and the financial need of children's hospitals.
Connor is the second child from MU Children's Hospital to be chosen as Missouri's Champion child. In 2012, Jayla Kemp, of Fulton, Missouri, became the hospital's first Champion child.
"Connor is a resilient young man, conquering many battles in his life, but he does so with a shining smile that is contagious," said Kristen Fritschie, Children's Miracle Network coordinator for MU Children's Hospital. "He and his family do a fabulous job creating awareness about his story, the care he has received at our hospital and Children's Miracle Network fundraising. The Children's Miracle Network directly supports 170 children's hospitals across the nation." 
A champion is born
Connor was diagnosed with brittle bone disease when he was born on July 19, 2005. Osteogenesis imperfecta is a genetic disorder that can cause weak bones that break easily. It can be treated through surgery, physical therapy and medications that strengthen bones. Connor broke his first bone two months before his first birthday.
"It was extremely hard when he was a baby," said Stacy Strope, Connor's mom. "We were first-time parents, so that alone is scary. Then to have a baby who could fracture a bone if he sneezed added a lot of stress and worry to the situation. We had family and friends who didn't want to hold Connor because they were afraid they would hurt him."
Connor began seeing Daniel Hoernschemeyer, MD, a pediatric orthopaedic surgeon at University of Missouri Health Care, when he was 3 months old. Dr. Dan, as Connor calls him, has performed all of Connor's surgeries.
"Connor's prognosis is good, and his life expectancy is full," Hoernschemeyer said. "I expect him to be an active adult. Connor is a very active kid, and our goal is to keep him physically active. By doing so we are helping to increase his bone density and helping his cardiovascular fitness and weight control."
"Connor is a great champion. He accepts his disabilities without question, and he handles every situation with a smile." LeAnn Reeder, MU Children's Hospital Child Life Specialist
In addition to surgery, Connor has received medication treatments since he was 16 months old. These infusions used to take three days (six to seven hours per day) every three months. Now Connor's treatment takes just two to three hours every six months.
Stacy said she considers Hoernschemeyer and the staff at the MU Children's Hospital procedure suite as "part of our family."
LeAnn Reeder, a child life specialist at MU Children's Hospital, said Connor is a pleasure and she looks forward to his visits. "Connor is a great champion," Reeder said. "He accepts his
disabilities without question, and he handles every situation with a smile. He represents strength and attitude over adversity and comes across as a very happy young man."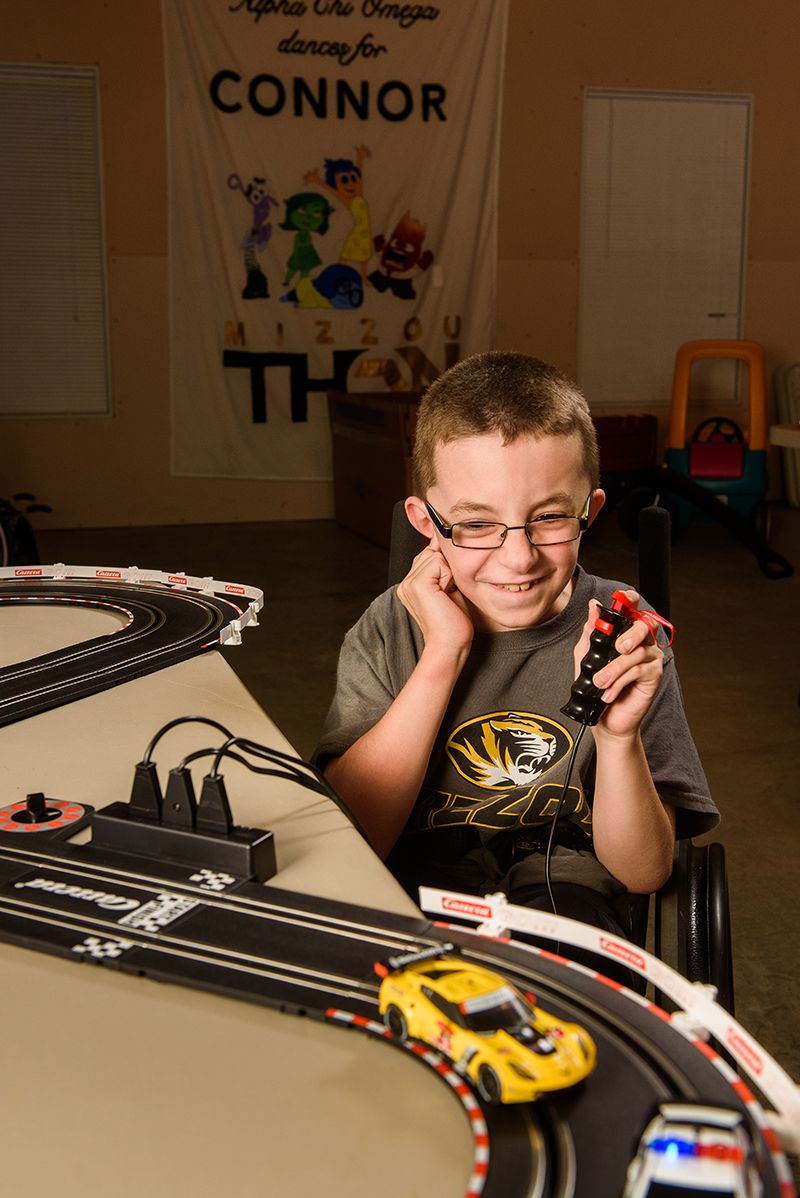 When Connor is at home, the only reminder of his disease is his parents' occasional reminders to "be careful" while he's wrestling with his sister, Mallory. Connor loves to watch movies, listen to music and show off his "moves."
Although Connor uses a wheelchair when at school, at home he scoots around on his hands and bottom. He loves to spin on his back like a break dancer to release energy and unwind.
"Connor didn't start rolling over until after his first treatment at 16 months old," Stacy said. "I'm not sure exactly when it started, but he would roll in a circle slowly to release energy. From that, it got faster and faster."
Spinning is now part of his daily routine, just like running is for most children.
"People probably think we are crazy to let him do it, but he knows his limits," Stacy said.
As the state's Champion Child, Connor will have many opportunities to be an ambassador locally and nationally. He and his family will travel with the other Champion children to events in Florida, as well as visit with congressional representatives in Washington, D.C.